Dear Friends and Neighbours,
A lot has happened since my last newsletter. We have had some staffing changes, and I would like this opportunity to introduce our new Burnaby North team members. Nyiri Karakas has joined as our new constituency assistant, and Karl Chen who formerly worked in Communications at BCIT, has joined as our lead on digital communications temporarily.
My office continues to offer services over the phone, by email, and by scheduled appointments. We are also offering free vaccine card lamination services on Wednesdays and Fridays this month; please connect with my team to schedule your appointment.
Things have been very busy at the Legislature, which convened at the beginning of October. Highlights include this week's announcement on massive deferrals to old-growth logging and our CleanBC plan to tackle the climate crisis. I welcome your feedback on both these initiatives. I've heard from many constituents of Burnaby North who are concerned that BC is not doing enough to tackle the climate crisis. I believe the CleanBC plan is a significant step in the right direction. I wish you all the best as we enter the colder months. If you would like to join me for a virtual Coffee with Janet, our next one will be held on November 13th, from 10:00am to 11:00am.
Email us to RSVP and receive a Zoom link.
Sincerely,
Janet Routledge
CleanBC Roadmap to 2030
The roadmap shows a clear path to how we plan on reaching our emissions targets. The roadmap includes targeted actions across eight pathways, including low-carbon energy, transportation, industry, buildings, and more. Some of these actions include:
a stronger price on carbon pollution to meet or exceed the federal benchmark, with supports for people and businesses;
reducing methane emissions from the oil and gas sector by 75% by 2030 (from 2014 levels), and nearly eliminating methane emissions from oil and gas, mining, forestry and industrial wood waste by 2035;
a nation-leading adoption of zero-emission vehicles (90% of new light-duty sales by 2030) and 100% ZEVs by 2035;
completing B.C.'s Electric Highway by 2024 with a target of having 10,000 public EV charging stations by 2030;
new requirements to ensure all new buildings emit zero-carbon by 2030 and the highest energy efficiency standards for new space and water heating equipment;
accelerated mode shifts towards active transportation and public transit (increase share of trips to 30% by 2030; 40% by 2040; 50% by 2050)
Moving forward on climate action also means working with industry in innovative ways. We're helping power up industry with clean electricity; supporting clean tech and industry solutions; using carbon tax funds to reduce industry pollution; and developing low-carbon technologies like hydrogen, carbon capture and storage and direct air capture. Each of these solutions will provide a new pathway to prosperity for people working in our resource sectors now and into the future. Read more about it here.
Government taking action on old-growth deferrals
Last week, our government announced its plan to work with First Nations on deferrals for 2.6 million hectares of BC's most ancient, rare, and at-risk old growth forests. That's the equivalent of 6,400 Stanley Parks.
Click here to read more about the announcement.
Click here to read the Old Growth Strategic Review Panel report.
Janet in the Legislature
October is Women's History Month. It was my pleasure to speak to Mable Elmore's motion to honour women who have broken down barriers that kept women out of traditionally male-dominated jobs.
I was so impressed with Take a Hike an alternative school program I was introduced to a few years ago. They have accomplished so much since then.
National Day for Truth and Reconciliation
On The National Day for Truth and Reconciliation, the Select Standing Committee on Finance and Government Services was wrapping up a week of travelling throughout BC to hear from British Columbia's about what they want to see included in the next provincial budget. Our report will be presented to the BC Legislature on Monday. So many individuals and organizations shared concrete ways they are committing to Truth and Reconciliation.
All-Party Women MLA Lunch
As chair of the government Women's Caucus, I was honoured to host an all-party lunch for women MLAs in the Legislative Library. We were joined by Zoom by Professor Jeanette Ashe who is leading a gender audit of legislatures across Canada to identify the barriers that discourage women from running for office.
Back in the Community
As more and more people are getting fully vaccinated, restrictions are slowly lifting and events are happening. I've had the opportunity to be out in the community and attend events. Hopefully, we will soon be able to gather again at full capacity.
↑ Laying a wreath with Mayor Hurley at St John Ambulance "No Stone Left Alone" Remembrance Day ceremony at Forest Lawn Cemetery
 ↑ I had so much fun at the dinner hosted by the Metro Vancouver Overseas Society to celebrate Taiwan's National Day.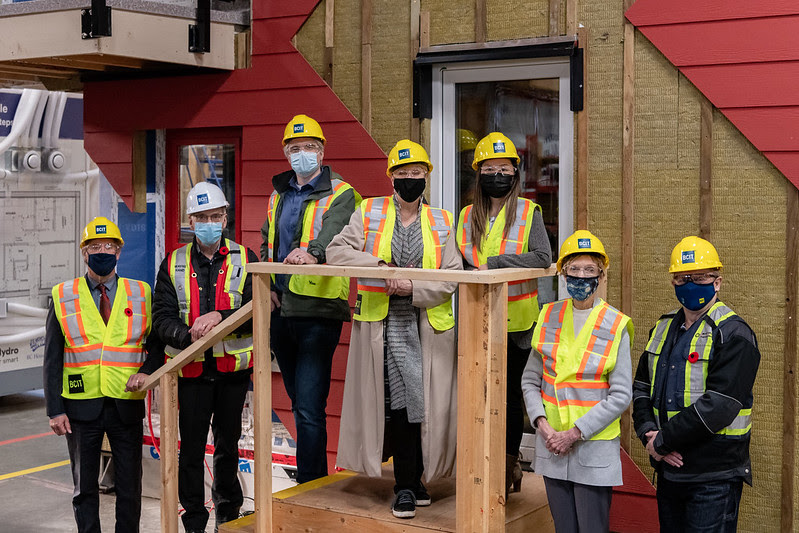 ↑ I got to see firsthand the apprenticeship training at BCIT!
↑ I always make a point of purchasing local produce whenever I can. I encourage you to do the same and seek out B.C.-produced food at your local market and grocery stores.
↑ Earlier this year, Seton Villa had its catalytic converter stolen. That meant they couldn't use their bus to transport residents out into the world after having been shut in for months due to the pandemic. David Wright, the new owner of Oxmore Market, stepped up and bought Seton Villa a new catalytic converter.
↑ After more than a year and a half of my community office being closed due to the pandemic, I have a new art exhibit. I'm so proud to be exhibiting the art of Zoe Clemens, my first art teacher. Zoe painted some Burnaby-themed pieces just for this show. Thank you to her granddaughter, Natalie, for helping her hang them.