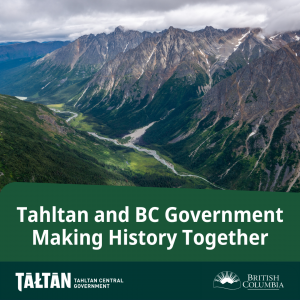 Tahltan Central Government and B.C. make history under Declaration Act 
Tahltan Central Government and the Province have entered into the first consent-based decision-making agreement under the Declaration on the Rights of Indigenous Peoples Act (Declaration Act). 
This agreement honours Tahltan's jurisdiction in land-management decisions in Tahltan Territory, in recognition of Tahltan's title and rights within its territory. The agreement advances reconciliation as well as provides clarity and predictability for the Eskay Creek Revitalization Project. 
This agreement outlines consent-based decision-making related to the environmental assessment of the Eskay Creek Revitalization Project. The governments are working together to change B.C.'s traditional approach to environmental assessments and permit authorizations by placing Tahltan values and rights at the forefront.
Together, the shared intent is to create a model for sustainable mining and world-class environmental practices and standards.