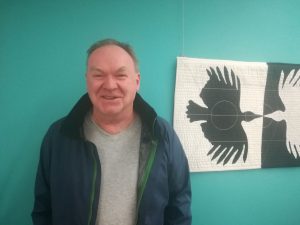 How long have you lived in Burnaby North? I grew up in North Burnaby and attended elementary school through university locally.
What changes have you seen over this time? The most notable changes I've noticed in Burnaby over the past five years have been the many new condo buildings built and the significant increase in traffic congestion on Hastings Street, Lougheed Highway and Highway No. 1. The new Brentwood shopping complex, complete with the new 65-storey tiers, has also had a large visual impact on the community.
What's your favourite thing about our riding? Its central location within the lower mainland and the easy access to the wonderful parks, lakes, and libraries in Burnaby.
How did you meet your MLA? I initially met Janet at an event in North Burnaby, later at the North Neighbourhood House, and again at her constituency office opening event. Over the past year, I have enjoyed coordinating bi-monthly art exhibitions of local artists' work on the walls of Janet's constituency office. The exhibitions provide a creative window into the local visual art scene for the public and for artists alike.
What would you like to see more of in our community? Overall, I would like to see more cultural facilities developed in Burnaby. There is a need for more private and public art galleries, affordable studio spaces for artists, and alternative cultural festivals in the community.
What is the most important thing this new government has done? Creating an atmosphere that encourages the development of affordable housing for Burnaby.
What would you like to see the government do next? The community would benefit greatly for a new public art gallery.
If you didn't need to sleep, what would you do with the extra time? I would spend more time with my friends and my art-making interests.
Your house is on fire and you have time to save one item. Tell us about that item. Gesso, the cat.
If you were to wake up from having been cryogenically frozen for 100 years, what would your first question be? Where is the fob for my truck, and do salmon still spawn in Still Creek?
What is your claim to fame? I have had numerous local and international art exhibitions to my credit.
How do you relax after a long day of work? I like to hike or ski the beautiful forests and mountains of BC.
What is something you think everyone should try at least once in their lives? Find a creative way to express your inner feelings, thoughts, passions, and concerns about the world around you!