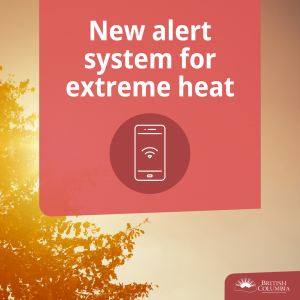 Launch of BC Heat Alert and Response System
In anticipation of expected heat events as we head into the summer season, the province has launched the BC Heat Alert and Response System (BC HARS) to help ensure people have the tools they need to stay safe during heat events. Under BC HARS, the Province is prepared to issue a Broadcast Intrusive alert for extreme heat emergencies.
The Province is also bringing in additional measures to bolster B.C.'s ambulance system to better respond to a significant increase in 911 calls during a heat emergency. 
BC HARS includes two categories of heat events: heat warnings and extreme heat emergencies. In the event of a heat warning or extreme heat emergency, the provincial government and local authorities will take appropriate actions based on their individual heat plans and processes.
For extreme heat emergencies, the Province is prepared to issue alerts through the national public alerting system, Alert Ready, which is already used to issue Amber alerts and tsunami, wildfire and flood warnings.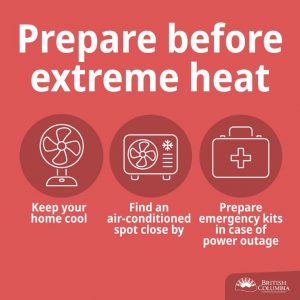 Be prepared to keep cool before the hot weather starts
If you have an air conditioner, make sure it works properly.
If you have ceiling fans or other fans, they can bring cooler air in from outside, but may not help at very hot temperatures. Fans cannot effectively reduce body temperatures or prevent heat-related illness in people at risk.
Find an air-conditioned spot close by where you can cool off for a few hours on very hot days.
Use The Extreme Heat Preparedness Guide to make sure you're ready. 
Please let us know if you would like a paper copy of this guide, which can help you prepare your residences for extreme heat and provide you with advice about how to stay safe when temperatures rise.